About Us
Confessing that cooking wasn't always her forte, Teresa E. Dye was searching for a way to help make ends meet after her divorce.  Baking cakes out of her home for customers while working as a paraprofessional in a public school, Teresa's skills in the kitchen evolved into preparing and selling meals. Honing her skills over the years she became the proud owner of T&K Custom Catering in June 2007.
Teresa previously worked in direct care aid for mentally and physically challenged adults living in a group home. She also worked as a childcare aid for abused children. She earned her associate's degree and took courses in education. After losing her job after 10 years as an in-school suspension supervisor, she decided to take culinary courses to broaden her horizons.
"Cooking and serving others is a very personally rewarding." Teresa said. "I have gone through some ups and downs in my career, but this is something that gives me a measure of joy unlike any other.  It's still a learning process for me, but the fact that I stepped out and took a chance is something I am grateful for today."
Earning Muskegon Community College's "Event Planning Certification" in 2008, Teresa also became ServSafe certified in 2013. She also participates as a vendor, recently taking part in a Rib Contest at "Muskegon Heights Party in the Park" and winning the "Best Ribs" award.
Teresa's catering business is centrally located in Muskegon, Michigan. She works with all event types and sizes, including wedding receptions, family reunions, funeral luncheons, graduation open houses, and any type of social gathering that requires a tasty meal. T&K Custom Catering also offers intimate "dinners for two" where clients are wined and dined in the comfort of their own home. Focusing mostly on Soul Food, Teresa is always open to preparing other food types based on the needs and desires of her clients, and no event is too big or too small. They also make each occasion an event.
Teresa surrounds herself with those that enjoy cooking as she does and have the same "can do" attitude she has. So when she's preparing for an upcoming event, it's important that her employees put as much love and perfection into the food as she does.
Living her life as a person of integrity, Teresa is a volunteer Bible educator as a Jehovah's Witness. She has been married to her husband Robert for 12 years. Together they have 5 children, 8 grandchildren and 1 great-grandchild.
"I've learned to strive to learn as much as I can. It's OK to lean on others, but not to the point that you feel lost without them. It's important to be able to stand on your own and never limit yourself. You never know when your situation may change." Teresa said.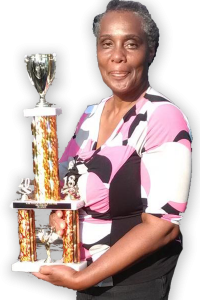 Teresa Dye – Owner, T&K Custom Catering